Surrounded by majestic snow-covered landscapes, Bariloche, located in Argentine Patagonia, is one of the most sought-after destinations during winter vacations.
This city is a paradise for winter sports enthusiasts and offers a rich gastronomy to suit all tastes.
Moreover, for inhabitants of South America, Bariloche represents a closer travel option to enjoy snow and its inherent activities, such as skiing and snowboarding, without having to go to further locations like Europe or North America.
This makes the winter experience in Bariloche even more attractive and accessible for many South American travelers.
But how much does it cost to go there in the Winter?
It's July 2023, and we will give prices in US Dollars and Brazilian Reais, for you to have an approximate average value, if you are reading this post in the future, since they are stable currencies without drastic inflation variations, unlike Argentine Pesos, which change month by month and do not serve as a reference for future values. The exchange rate at the day of the post was approximately: 1 Dollar = 525 Argentine Pesos, 1 Real = 109 Argentine Pesos.
Before anything else, don't forget that the Argentine Government can give you some cash to spend on local tourism!
Prices of Accommodations in July in Bariloche, Argentina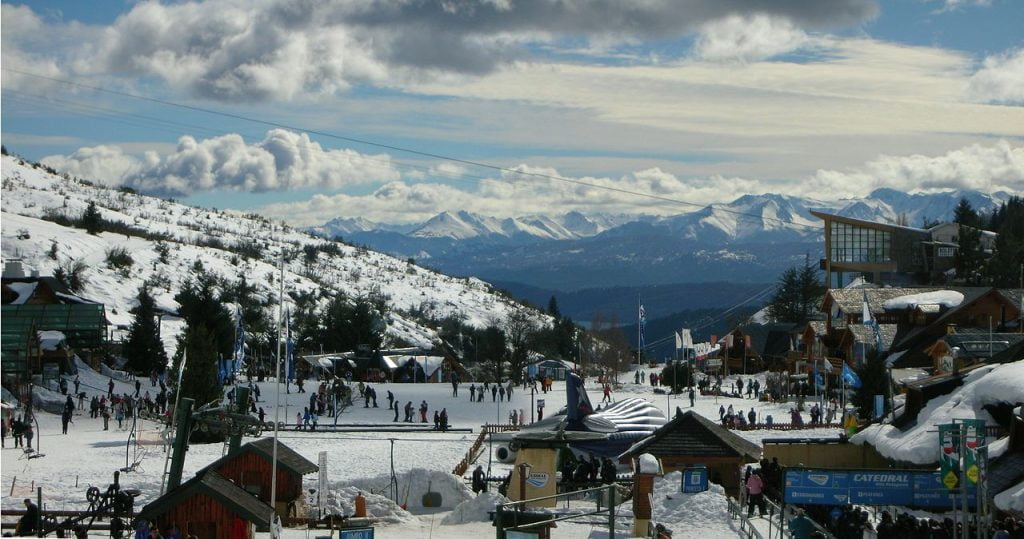 Hotel occupancy in Bariloche reaches 90% in the months of July and August, so it is recommended to book in advance.
Therefore, the city offers a wide variety of accommodation options, with rates starting from (rates vary depending on services, category, and location of the establishment.):
$ 25,000 ????????ARS (rounding to US$ 48 ???????? or R$ 230 ????????) for mountain or downtown hotels, cabañas and lodges, all of basic category;
$ 12,000 ????????ARS (rounding to US$ 23 ???????? or R$ 110 ????????) for hostels;
$ 11,230 ????????ARS (rounding to US$ 21 ???????? or R$ 103 ????????) for rooms in houses via apps.
Savor Argentina's Traditional Foods in Bariloche
The rich and varied gastronomic offer of Bariloche is a tourist experience in itself.
The city is famous for its regional specialties such as Patagonian lamb, usually served grilled and whose price starts at $ 5,000 ????????ARS (rounding to US$ 9.50 ???????? or R$ 46 ????????). But the lamb can also be found in various other preparations, such as stews, empanadas, and pastas.
Another classic dish from Bariloche is curanto, an ancestral meal of Araucanian origin. This dish requires an almost legendary ceremony for its preparation, involving a hole in the ground, hot stones, and nalca or maqui leaves.
The curanto includes vegetables and meats like chicken and lamb, so to taste it, you need to go to Colonia Suiza, 20 km from the city center. The price for two people is $ 6,500 ????????ARS (approximately US$ 12.40 ???????? or R$ 60 ????????).
One should not forget the Patagonian trout, which is one of the preferences of tourists. It can be tasted both fresh and smoked, accompanied with sauces and garnishes. The dish can be found starting at $ 5,000 ????????ARS (approximately US$ 9.50 ???????? or R$ 46 ????????).
A Journey through the Flavor of Craft Beer
Bariloche is also known for its craft breweries.
Not only can you savor delicious meals, but you can also take tours and learn about the beer-making process, a characteristic product of Bariloche.
In a brewery, a standard burger and beer menu starts at $ 4,500 ????????ARS (approximately US$ 8.60 ???????? or R$ 41 ????????).
The Comfort of Tea in the Cold
An ideal program for cold days is to have tea.
In Bariloche, there are several places with panoramic views and cozy lounges, full of delights to taste.
A full tea for two people can start from $ 6,000 ????????ARS (approximately US$ 11.45 ???????? or R$ 55 ????????), including infusions and a variety of snacks.
In conclusion, Bariloche is an extraordinary winter destination!
specially for lovers of sport and gastronomy. The city offers a charming mix of culture, winter sports, mouth-watering gastronomy, and breathtaking natural scenery.
While costs can vary, the price of a trip to Bariloche is definitely justified by the rich experience that this destination offers.
Don't forget to subscribe to the argentinaguia.com website to receive more information and updates about Argentina directly in your email.
Lastly, if you know someone planning a trip to Bariloche, don't forget to share this post. Help them to better prepare for their winter vacations in marvelous Bariloche!