I visited 4 Pizzerias in Buenos Aires, Argentina, that every tourist should know, the iconic Pizzería Güerrín, Las Cuartetas, Kentucky, and La Mezzetta.
Each one stood out for its own reason — be it for authenticity, tradition, unique pizza style, or even the vibrant atmosphere.
So, I will share my impressions of each place, the flavors we tried, and the stories. My goal is to provide a closer look at what a pizzeria in Buenos Aires is and the real ritual of tasting its menu.
The Cultural Experience of Pizzerias in Buenos Aires
Although it is of Italian origin, pizza in Buenos Aires has taken on an unmistakable Argentine identity that goes beyond simple flavor, its history is extremely rich and it is worth knowing its details.
The experience of tasting a pizza in the Argentine capital is immersive and authentically "porteña", providing an intriguing insight into the city's life and culture. We detail some aspects of this experience that I was indeed able to live in each of the 4 pizzerias in this post, in Buenos Aires.
Authentic Hospitality
The pizzerias in Buenos Aires are known for their warm and authentic hospitality. The staff, often, have many years of service, being passionate about what they do.
This is reflected in customer service, always ready to give recommendations, tell stories, or simply have a chat. So, this inviting atmosphere transforms the simple action of eating a pizza into a pleasant social experience. Indeed, I experienced this and I will tell you next.
Vibrant Atmosphere
Porteño pizzerias often exude captivating energy. From the bustle in the kitchen to the animation of the tables, there is always a buzz of activity.
Some pizzerias, particularly the older and more historic ones, like the ones in this post, also have charming decor that evokes the era of Italian immigration. Paintings, photographs, period lamps, and even the furniture contribute to an environment full of charm and personality.
Pizza Rituals
In Buenos Aires, eating pizza is not just a meal, but a ritual. There is even a local expression, "la previa", which describes the custom of gathering with friends for a meal before a night out.
Pizzerias are often the chosen place for this preliminary celebration. In addition, families and friends often gather at pizzerias on Sundays to share a meal and enjoy each other's company.
The Experience of Eating a Slice in Buenos Aires Pizzerias
In Buenos Aires, pizza is often served in slices, or "porciones", and not whole. This allows you to try several different pizzas in a single meal.
In addition, the preferred way to eat pizza is with your hands, often folding the slice in half to form what is known as "librito" (little book).
The 4 Iconic Pizzerias of Buenos Aires I Visited
Starting with Pizzería Güerin, a real icon of the Buenos Aires pizza scene. Located on the famous Avenida Corrientes, a vibrant cultural center of the city known for its theaters, bookstores, and cinemas, Güerrín is more than a simple pizzeria — it is a true institution of Porteño Pizza.
Founded in 1932 by Italian immigrants, the name Güerrín is a tribute to a popular Italian hero portrayed in a medieval epic poem, as reported by Italian journalist Pietro Sorba, author of the first guide to pizzas in Argentina.
And there I went, thinking I was going to eat at the counter, standing up, in the most traditional way in Buenos Aires pizzerias! Upon entering, all the counters were full, lots of people eating and many others waiting in line to eat standing or to take away.
I saw a little sign indicating Salón Presidencial, and a deep, somewhat dark corridor. I asked some employee if I could enter, he said yes, and off I went.
The pizzeria occupies a building that was originally a "conventillo", a type of collective dwelling common among immigrants. The place was transformed into a pizzeria in the 1930s and has since been a landmark in the city's gastronomic scene.
The "conventillo" atmosphere was clearly perceived by the corridor — see the photos next to it that I took.
One of the peculiarities of Pizzería Güerrín is its wood-fired oven, which, according to local legends, has never been put out since its inauguration and it is the one that welcomes the hungry visitors who arrive at the Salón Presidencial!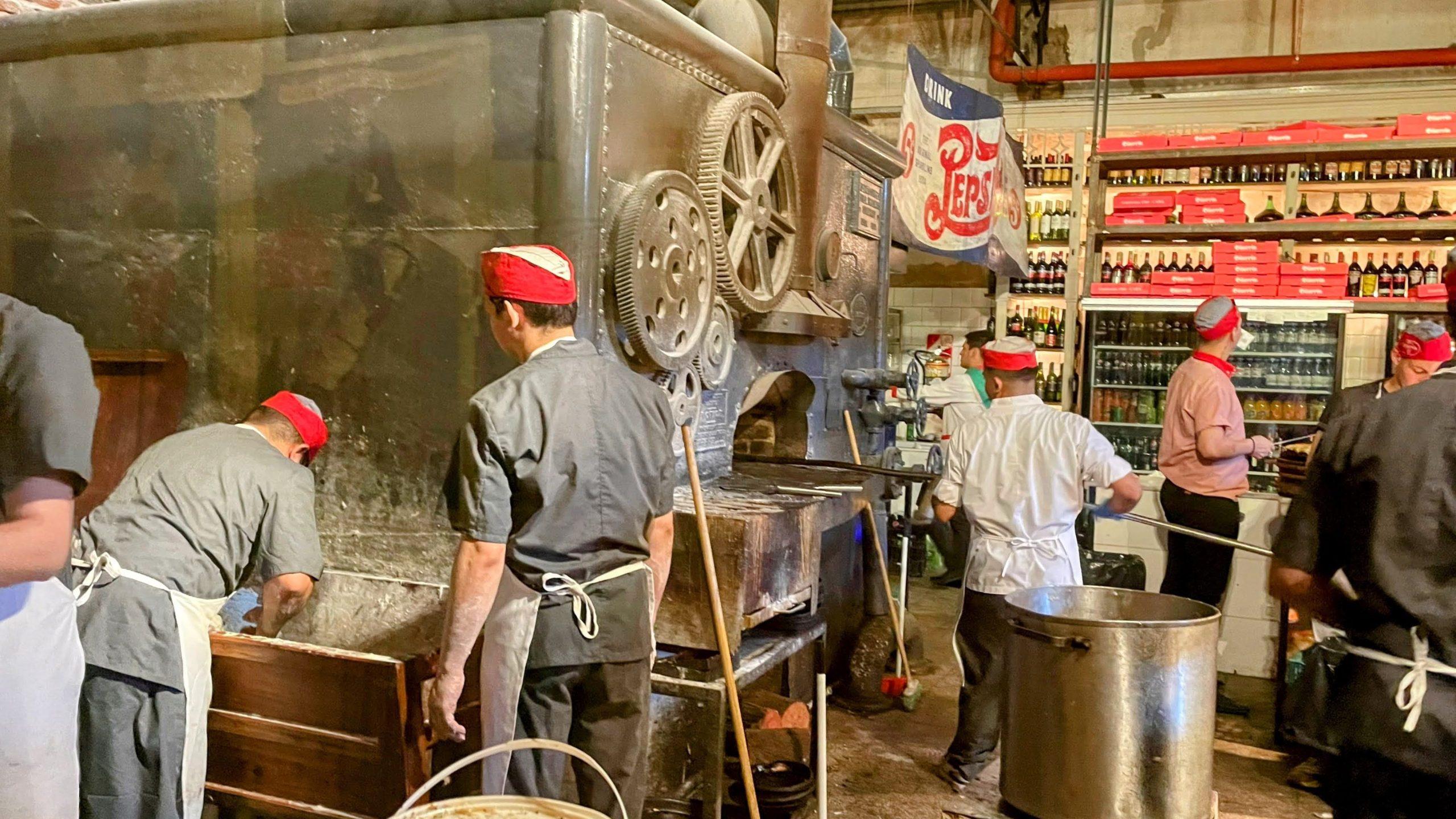 Oven working for 90 years, one of the photos I took that I like most about my collection on Argentina!
The sensation is like a time tunnel, the chaos of Av. Corrientes seems to disappear and you feel in a huge hall, beautifully decorated, and with a totally familiar atmosphere!
I sat almost at the back to get a good look at the hall.
We ordered Beef and Chicken (Pollo) empanadas while we awaited this marvel of a pizza half Eggplant (Berenjena), half Ham and Pepper (Jamón y Morrón) with Pepsi and 7Up to accompany, we spent 40 reais per person (China, Ananda and me).
Also on Corrientes, I ate several times at Pizzeria Las Cuartetas, another emblematic establishment on the Buenos Aires pizza scene.
Inaugurated in 1939 by an Italian immigrant, Las Cuartetas has maintained its authenticity over the years, offering the characteristic abundance of cheese and the typical quick-eating hall, whether standing or sitting, you serve yourself and choose where to eat.
According to legends, Alberto Vaccarezza, a poet and tango composer for Carlos Gardel, used to write his quartets (four-line poems) on paper napkins while sitting at one of the tables of this establishment. This story ended up being associated with the name of the place, which opened its doors in 1932 thanks to the efforts of Urcola, a Basque, and Espinach, a Catalan. The current owners acquired the pizzeria in 1955 and, despite the passing years, it remains one of the favorites of Buenos Aires pizza lovers.
At the counter in the back, you get your slice of pizza, "los cubiertos" (cutlery) and drink on the side and sit down to eat, simple as that! "La propina" (the tip) you can leave on the counter even before you get your pizza, the attendants appreciate it!
Regarding tips, regardless of whether you leave one or not, they always serve you well, but it's extremely cultural to leave one, preferably in the hands of the person who served you!
The pizzas, here we tried a wonderful Espinaca con Salsa Blanca (Spinach with White Sauce) as well as the Pimentón y Morrón, as always.
A lot of everything, dough, sauce, filling, cheese and spectacular flavor!
It may seem strange a pizza without tomato sauce, but it's well worth the experience and several Pizzerias in Buenos Aires have this flavor!
Shortly after eating these slices, we went to see a wonderful play at Passeo La Plaza, with one of our favorite actors, the Chilean Benjamín Vicuña, I'll tell this story soon!
Visiting Las Cuartetas is to dive into the rich gastronomic history of Buenos Aires, to savor the unparalleled Argentine pizza, and to connect with the local culture in a unique way.
La Mezzetta, opened in 1939, in the quiet neighborhood of Colegiales, internationally recognized, mainly after participating in the Netflix documentary – Street Food América Latina, which I watched and made sure to go there!
Despite its modest façade, looking just like another local business, people enter the small establishment confident they will find one of the best pizzas in the city.
La Mezzetta maintains the spirit of the past, common in most pizzerias in Buenos Aires: the order is placed on the sidewalk, through a window!
After ordering, you enter to pick up or to eat standing up, that is, literally without tables or chairs.
And visiting La Mezzetta is an intense tourist activity in all aspects. Starting with the line, full of workers ending their shift hungry or local residents, preparing to take a lovely dinner home (I got there around 6pm).
Upon hearing China, Ananda, and me talking in Portuguese, the lady in front of us and the man behind us automatically started a conversation:
—"¿Brasileros?" asked Doña Mercedes.
—"¿Querés ayuda con la carta?" asked Don Leonardo, offering to help us understand the menu.
Doña Mercedes had a huge rottweiler on a leash. She started singing "Girl from Ipanema" to break the ice and strike up a conversation with China, I didn't pay much attention to what they were saying, I just saw that in an instant, the gigantic dog named Bruce was surrendered to China's affections.
Don Leonardo, in customary Porteño friendliness, began speaking to me in Portuguese, with a thick accent but quite comprehensible. He then recommended that I order empanadas and the house's famous Fugazzetta, something he has been doing for most of his life, except for periods when he lived in Rio de Janeiro, explaining the origin of his good Portuguese.
At the counter, the master pizzaiolos put dozens of impeccable pizzas in the oven, in a kind of show that customers can enjoy while waiting for their pizzas. Don Leonardo, as a "master of ceremonies of the house," walked into the hall with me and explained all the details and, being the old and good customer he is, interacted with all the employees. He asked them to show me the spectacle of serving a Fugazzetta, the emblematic pizza of Mezzetta, covered with cheese and onion!
The pizzas are served on metal plates and should be eaten standing up, whether at the counter or at tables against the wall. There's also the option of pre-cooked pizzas to take home and finish cooking.
La Mezzetta's dough is considered one of the best in the city – airy and fluffy, a true delight. In addition, customers take advantage of the waiting time reading posters that tell a little about the history of the establishment and appreciating the simplicity of the place, always bustling with customers coming in and out.
Finally, our last stop is Pizzeria Kentucky, opened in 1942 and with several branches spread throughout Buenos Aires and Argentina.
I felt relief every time I saw one, as I thought "if I can't find anything different to eat around here, I'll go to Kentucky and guarantee great pizzas and empanadas!"
Every Kentucky I went to is divided into two: a large hall with tables and a space where customers eat standing up.
Pizzeria Kentucky offers a wide variety of pizzas, also with plenty of toppings, such as muzzarella, anchovy, fugazza, the special Kentucky, spinach with white sauce, roquefort, provolone, Napolitana, sausage, ham and peppers, and fugazzetta. The pizzeria is also famous for its pepperoni pizza, a flavor much appreciated by customers.
We ate Pizza Kentucky in Palermo Novo, Recoleta, La Plata, and several times in Palermo Soho. At this one, one time, we arrived at the end of the business day and we were the last customers to order at the street counter to take away.
China asked me what those doughs, without filling, were. I replied that they are Fainás, which we haven't tried yet, but we will soon.
When we received our order, in addition to two slices of Pepperoni, there were two fainas, a courtesy of the house manager "for you to try". It's very common to receive such kindness in Argentine establishments and this one really touched us, because we ordered something usual, talked in Portuguese about the faina and the manager seized the opportunity to present his product to those who didn't consume it, a lesson in customer service!
Conclusion Pizzeria in Buenos Aires — 4 Iconic Ones for You to Visit
Each of these pizzerias has a unique story to tell and a distinct style of pizza to taste. Therefore, they summarize the diverse landscape of the pizza scene in Buenos Aires, offering a rich gastronomic experience that goes beyond flavor. In all of them, you can feel the passion and dedication that Argentines have for pizza.
I've shared my experience, but neither the words nor the photos in this article can explain what it's like to visit a pizzeria in Buenos Aires.
Finally, don't hesitate to comment, share this article on your social networks, and leave a comment below!