Niño Gordo. Just the name piques your curiosity, doesn't it? And believe me, it's as delicious as it sounds. Today, we're diving deep into the universe of this restaurant that's currently the sensation, blending the best of Asian flavors with the charm of Buenos Aires.
Prepare yourself for a culinary journey that defies the imagination and makes your taste buds dance with daring dishes and an unforgettable atmosphere. Grab your fork and come with me, let's uncover the secrets of Niño Gordo, the gastronomic diamond in the heart of Argentina!
The Gastronomic Saga of Sitz and Peña
Do you know Germán Sitz and Pedro Peña? If not, it's about time you learn more about these guys, the real superheroes of Buenos Aires culinary universe! This gastronomic adventure we're about to embark on is entirely their fault because, since 2014, this dynamic duo has been shaking tastebuds and Niño Gordo, well, it's their Everest. Consequently, the place is always buzzing with people and has over 150,000 followers on one social network alone. It's a hit, right!?
Niño Gordo: An Oasis of Unexpected Flavors
So, what's Niño Gordo? You ask me. Well, it's one of those places that you feel in your soul, you know? It's a restaurant that creates a crazy yet incredibly delicious blend of Oriental flavors with our beloved porteña food. But it doesn't stop there, the decoration seems to have come straight out of a movie that could easily win the Oscar for best production design, with details that take you back to Asia mixed with the pulsating heart of porteño rhythm.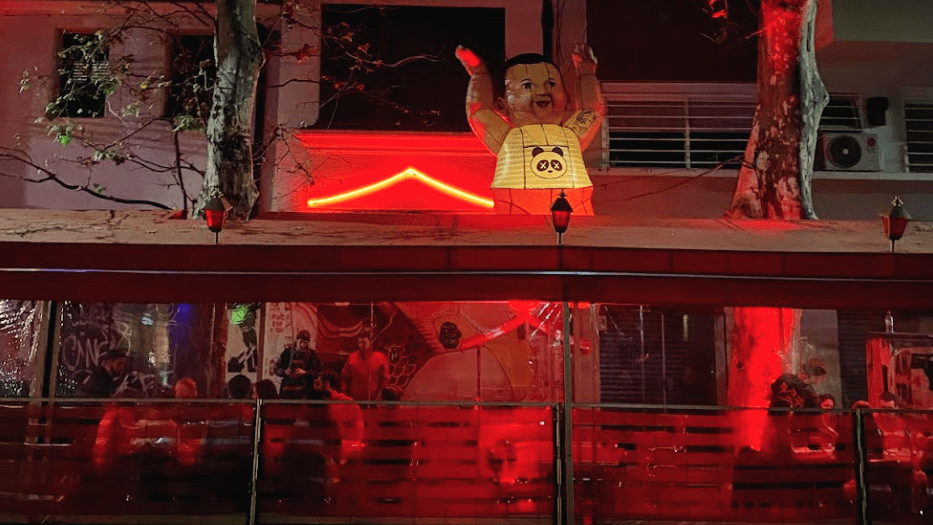 Niño Gordo is much more than a place to indulge in incredible dishes, it's a space to connect with a completely new culinary experience and to be surprised with each bite. It doesn't matter if you're a person who's passionate about Asian cuisine or if your closest encounter with it was through a pack of countryside chicken instant noodles, the fact is that, at Niño Gordo, everyone is welcome to embark on this flavor festival!
But before you start packing your bags to embark on this adventure, how about I show you a little more about this oasis of unexpected flavors? I promise you'll love it, come with me!
Temple of Umami: Niño Gordo from the Inside
Moving on, let's talk about the place itself. Every corner of Niño Gordo is a chapter apart. And, just like a good book, each chapter provides a different and striking experience!
Salón
Without a doubt, the heart of Niño Gordo is the salón. With its comfortable tables and cushioned chairs, this is where diners can enjoy the à la carte menu. And trust me, each dish is worth savoring in this ambiance.
Patio
Then we have the patio, a place with a charm all its own. With low tables and chairs, it's a different option for those who want a more casual yet sophisticated experience. Although it's subject to weather changes, it's an incredible choice for those warm porteño days.
Bar With Kitchen At Sight
For those who love to watch the process of creating a dish, the bar with kitchen at sight is a separate attraction. Reservations for up to two people are accepted here. Watching the chefs in action, preparing the à la carte menu, is an unforgettable experience.
Vereda
Finally, but by no means less impressive, we arrive at the vereda. The place where we settle for our outdoor banquet. You know that movie vibe, with red lights creating a charming and cool atmosphere? That's exactly the vibe we caught. Without reservations, it was the only available option, but it ended up providing us with a delightful, typical Argentine night.
A friend's tip: if you have a specific experience in mind, book in advance. Niño Gordo is always packed and it's not hard to understand why. But regardless of where you decide to sit, the magical sensation will be guaranteed!
And don't think that Niño Gordo's magic ends when you need to make a bathroom break. Yes, even taking a pee (or number 2 ┐('~`;)┌ ) is an experience there! I swear that the little beauty of the toilet seemed to have more buttons than a NASA control panel! I admit that my biggest dare was… pressing the flush button. I don't know, one of those buttons could trigger a Transformers. So, I leave this mission to you, test it out and let me know!
And if you think you've seen it all, wait until you see the sink. There, a bronze dragon serves as a faucet, spewing water from its mouth in a constant flow. Even washing your hands becomes an epic adventure in this place!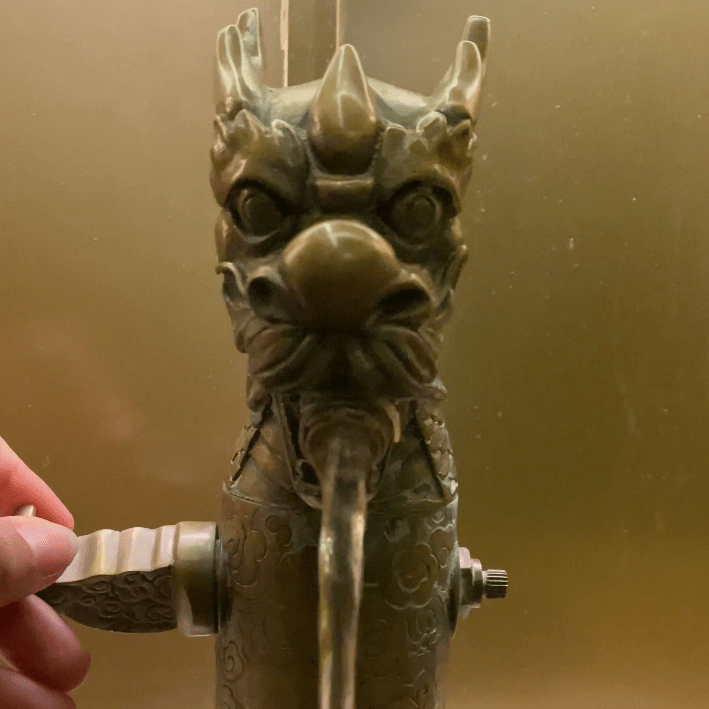 A Taste of the Unexpected: Embarking on the Culinary Adventure
To Eat
Now, let's talk about the main reason for our visit to Niño Gordo: the food, of course! It's an Asian grill that offers a fusion of Oriental flavors with beloved Porteño cuisine. Dishes from Korean, Chinese, Vietnamese, and Thai kitchens meet an Argentine touch, creating a truly unique culinary blend.
Also, their menus change over short periods, always including new dishes to showcase the richness of this cuisine. And the result? A flavor explosion in every dish that will have you coming back for more.
We decided on the Kara Age, Katsusando dishes, and a side portion of kimchi!
The Kara Age was delicious, with chicken crispy on the outside and juicy on the inside, perfectly complemented by the vibrant green sauce.
The Katsusando was a pleasant surprise, with tender and flavorful steak wrapped in toasted brioche bread and a delicious tonkatsu sauce. And the kimchi? Oh, the kimchi! It was everything we hoped for from this Korean delight: spicy, flavorful, and with that perfect tangy touch.
To Drink
Niño Gordo's cocktail bar is a show in itself. With Tiki and classic influences, they use liquors and distillates from Asia like Sake, Shochu, bamboo extract liqueur, Ginseng root distillate, makgeolli, and Japanese whisky. Our choice was the Pedro Piña, made with rum, peach liqueur, and coconut, served in a charming panda-shaped glass. And yes, once again, I'm singing praises because it was delicious, well-balanced and refreshing. It was the perfect choice to accompany the meal!
Niño Gordo is the type of restaurant you could find in any region of Asia, but, by happy coincidence, was born in Palermo. It's a place that celebrates the diversity and richness of Asian gastronomy, while harmoniously blending with Porteño cuisine. An unforgettable gastronomic experience that I strongly recommend you live through!
Niño Gordo Among the Best in Latin America
But wait, there's more to the Niño Gordo universe. As a result, in 2022, this fantastic place made history by being listed as the 75th best restaurant in Latin America. And who would dare question this ranking when it was given by the Latin America's Best 50 Restaurants award from the respected British magazine, Restaurant?
Ready to try Niño Gordo? Know where, when, and how much
So, are you ready to dive into the Niño Gordo experience? I'll give you all the necessary info! The address is Thames 1810, C1414DDL, Buenos Aires, Argentina, super easy to find. But, pay attention to the opening hours, to avoid the risk of a wasted trip, okay?
Located on Thames Street, 1810, in Buenos Aires, Argentina
On the weekends (Saturday and Sunday), they open for lunch from 1:00 pm to 5:00 pm and, for dinner, from 8:00 pm until midnight. During the week, you'll need to eat later, as they only open from 8:00 pm until midnight. Ah, an important tip: on Mondays, the place is closed, so don't even bother!
Monday: Closed
Tuesday to Friday: 8:00 pm-12:00 am
Saturday: 1:00 pm–5:00 and 8:00 pm-12:00 am
Sunday: 1:00 pm-5:00 pm and 8:00 pm-12:00 am
As for prices, they're very fair for the quality you'll receive. We were a party of three, and it ended up being around $8 (eight dollars), based on the blue dollar exchange rate of the period, per person. Worth every penny! Go with an open heart and an empty stomach, the experience will be amazing, I promise!
Completing the Gastronomic Route of Niño Gordo
I hope you enjoyed uncovering the wonders of Niño Gordo as much as I did. For me, it was a true revelation, a flavor explosion that took me on an epic journey through the wonders of Asian cuisine, in the heart of Buenos Aires. Indeed, the real beauty of food is so much more than just something to satisfy hunger. It's an experience, art, a form of expression… And Niño Gordo is an excellent example of this!
So, are you ready to set off on this culinary journey? Don't forget to tell me all about your experience there! I'd love to know what you thought and what your favorite dishes and drinks were. As always, until our next gastronomic adventure!"